Where code and music meet.
Director: Dr. Robert Pritchard
In this digital performance ensemble, you learn to write software to control systems using physical and sonic gesture tracking of traditional instruments, voice, and/or dance. Students use microphones, webcams, our Kinect-Controlled Artistic Sensing System (KiCASS), Wiis, accelerometers, game controllers, custom circuits, Arduinos, iPhones, iPads, etc. as part of creating interactive works.
In this ensemble, you work in small groups to create and perform works throughout the two semesters, and you are expected to perform and/or provide technical support in all works.
The digital performance ensemble Sonic UBC Laptop Sounds and Sensors (SUBCLASS) presents its work twice each year: at the end of the first semester in WinterBang! and then as part of the Bang! Festival of electroacoustic music at the end of the second term.
Check out the SUBCLASS blog to see what our Music Technology students are up to!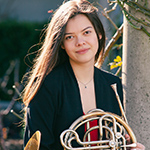 The Laptop Orchestra is one of my favourite ensemble experiences. In February 2020, we travelled to the Philippines to collaborate with composition and dance students at UP-Diliman to create and perform a concert of interactive dance and electroacoustic music. It was a once-in-a-lifetime experience. I wouldn't have thought to do had it not been for Dr. Bob's first-year music technology class!
Hanna Van Inwegen
BMus + BEd Dual Degree, fifth-year - Laptop Orchestra
WATCH: Introducing UBC's Laptop Orchestra
---
More videos showcasing the Laptop Orchestra