Whether you're a performer or musicologist, studio producer or music educator, we have a program for you.
The School of Music at UBC offers a wide array of undergraduate and graduate education in composition, performance, music education, and scholarship.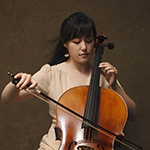 UBC School of Music encouraged me to pursue my career as an orchestral musician through its intensive orchestral and chamber programs. I enjoyed my experience as a cello major, receiving opportunities to perform in orchestral concerts and network opportunities with professionals in the music industry. The professors in the string and orchestra programs were encouraging and supportive.
Lyla Kyu Ri Lee
BMus '21 (Cello Performance), MMus '23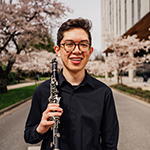 The UBC School of Music shaped me into who I am as a musician and as a person. Being surrounded by incredible musicians, a world-class faculty, and the state-of-the-art Chan Centre for the Performing Arts inspired me to strive, both professionally and personally. I am thankful and humbled to perform with top-level ensembles, attend exciting and unique lectures, and engage with wonderful musicians.
Felix Rowe
BMus '23 (Clarinet Performance)