Our music students rehearse and perform in UBC's world-class concert halls and performance spaces.
From the state-of-the-art Chan Centre for Performing Arts to the historic Old Auditorium and intimate Roy Barnett Recital Hall, you will have the opportunity to train and grow as a professional musician in front of diverse audiences.
Chan Centre for Performing Arts
6265 Crescent Road
Comprising of the 1,400-seat Chan Shun Concert Hall, the 200-seat Telus Studio Theatre and a 150-seat cinema, the Chan Centre for Performing Arts is a great rehearsal and performance home for the School of Music's Symphony Orchestra, Bands, Choirs and Opera. The Chan Shun Concert Hall consistently attracts a new and expanding audience for the School of Music's performance activities.
The Chan Shun Concert Hall boasts some of the world's best acoustics and state-of-the-art sound equipment. Designed to resemble a stringed instrument, with the audience seated in the reverberation chamber, the space is considered one of North America's premier performing arts venues.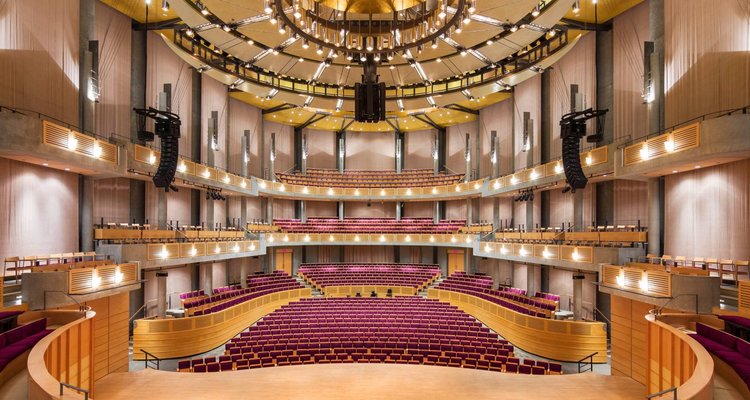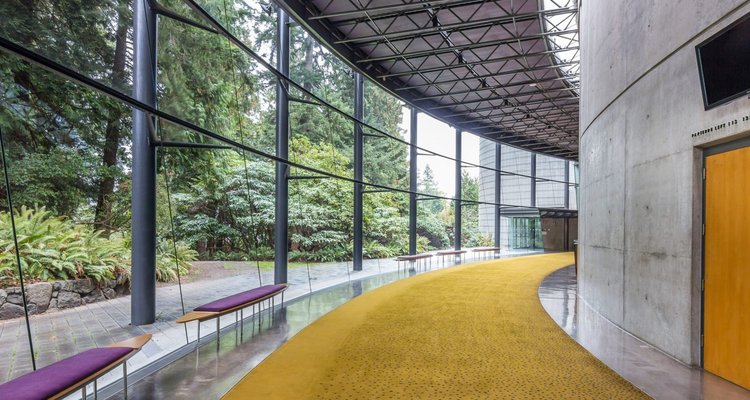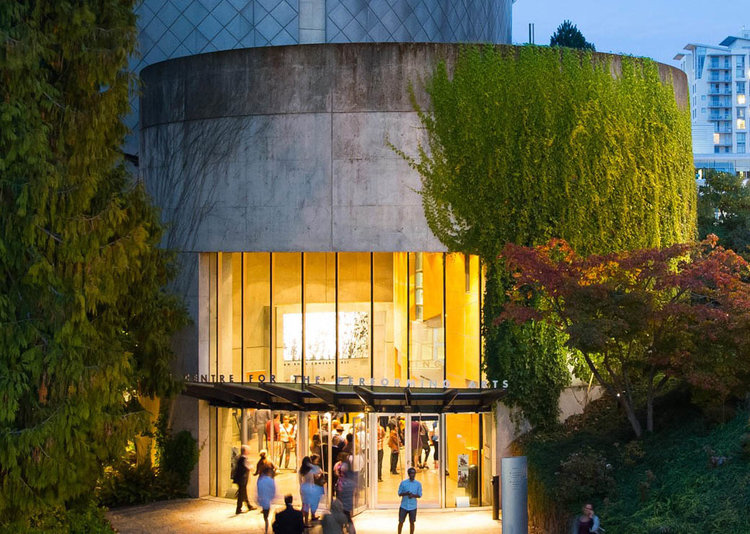 Roy Barnett Recital Hall
School of Music Building, 6361 Memorial Road 
Providing you with state-of-the-art rehearsal space and a 255-seat concert hall, the Roy Barnett Recital Hall is a place of inspiration. Nearly every day of the week, it is occupied with student recitals, ensemble programs and performances by faculty, alumni and guest artists.
Equipped with audiovisual equipment, it encourages the development of electro-acoustic music, the combination of electronic technology with live performance. The recording facilities enable students and faculty to review and archive their performances based on the latest recording standards.
From classical to contemporary genres, the Roy Barnett Recital Hall supports you in developing your stage presence, sound and technique, giving you a competitive edge for preparing for advanced studies and performance careers.
But it's not just the venue that is inspiring. The story behind its renovation is equally inspiring, reflecting one UBC alumnus' passion for music.
Twenty years after he retired, Roy Barnett (BCom '61) was determined to play the piano. At the age of 72, he enrolled at the Victoria Conservatory of Music. Today, Barnett plays a range of classical music, including some Beethoven sonatas, Bach preludes and fugues, and Chopin etudes. His love of music also led him, with the full support of his wife, Gunilla, to make a gift of 2 million dollars to the UBC School of Music. A portion of this generous gift was used to renovate the previously known space as the Recital Hall.
The venue re-opened as the Roy Barnett Recital Hall on September 15, 2010, with a ceremony and concert to honour the Barnett's gift.
Thanks to Roy and Gunilla, the former Recital Hall has undergone extensive renovations, including enhanced acoustics, new audiovisual equipment, updated aesthetics, and increased accessibility. The enlarged and reconfigured stage has improved the acoustics of students' performances and allows audience members to benefit from a more intimate experience with the musicians.
"I felt that the opportunity to fund the renewal of the Recital Hall was an exciting and very effective way to give back to the community."
Roy Barnett
BCom '61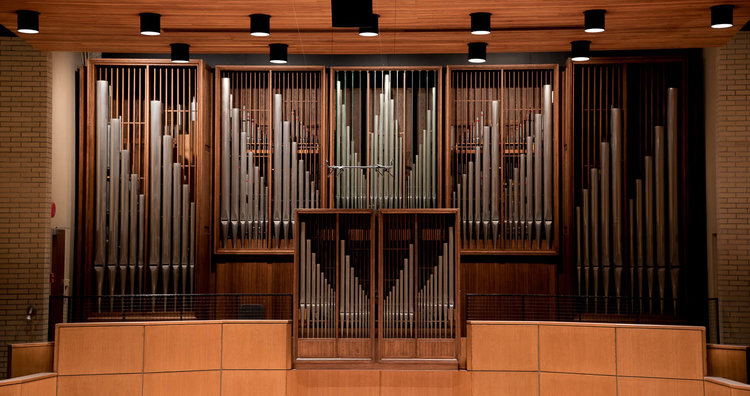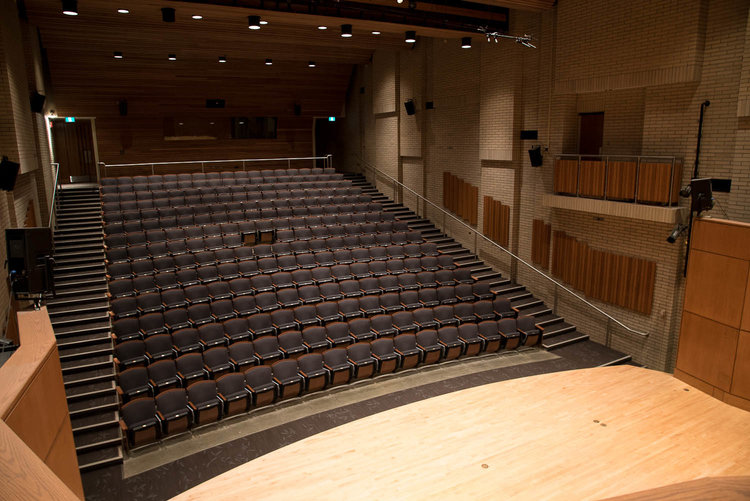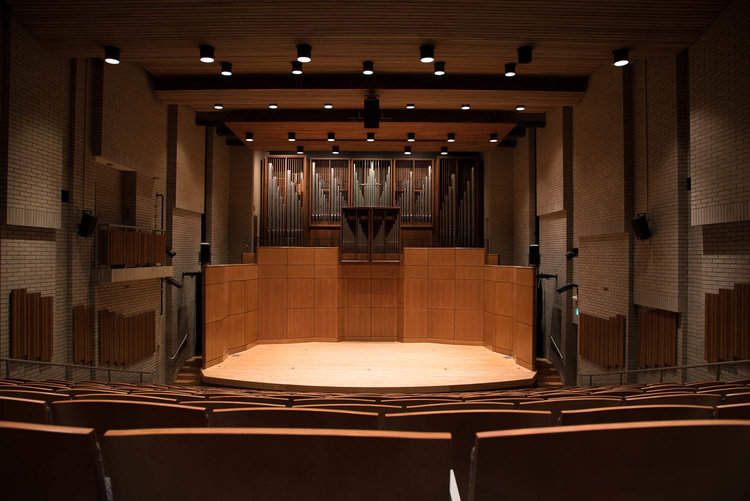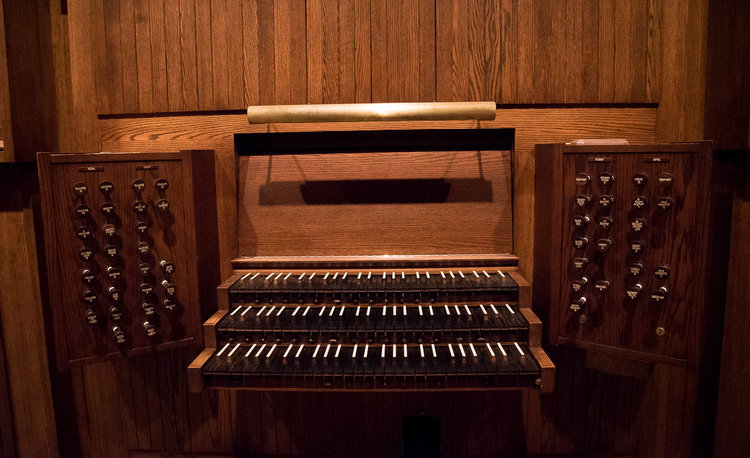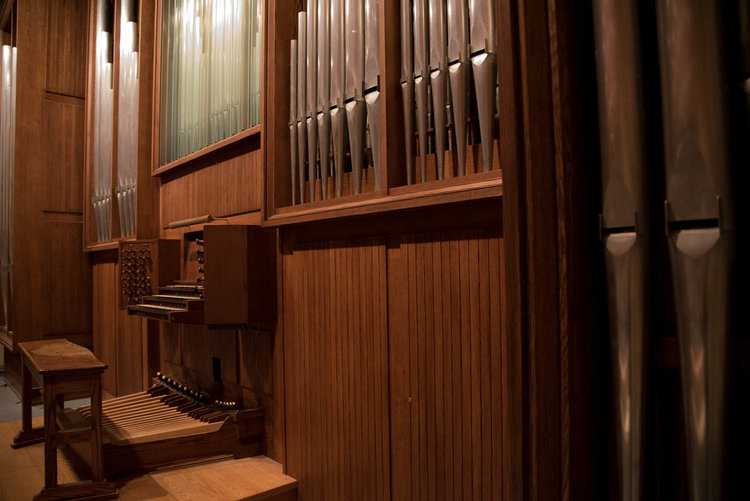 Old Auditorium
6344 Memorial Road 
Affectionately known as "Old Aud," the Old Auditorium has been a training ground for generations of musicians and performers.
Renovated in 2010, the Old Auditorium is now the only 522-seat (plus limited wheelchair spaces) concert hall in Vancouver. It includes a 60-seat orchestra pit, stunning collegial gothic architecture, a shoebox design for exceptional acoustics, excellent site lines and an intimate grandeur rarely found in North American concert halls.
The Old Auditorium serves as a dedicated performance centre, perfect for classical music and opera, and an outstanding facility for students, alumni, and the community. It will help the School of Music continue to lead the way in developing young performers of the highest calibre, such as graduates and opera stars Ben Heppner and Judith Forst.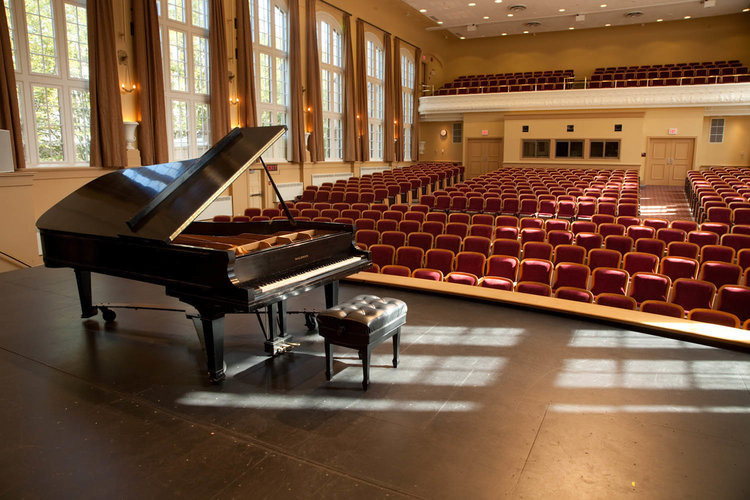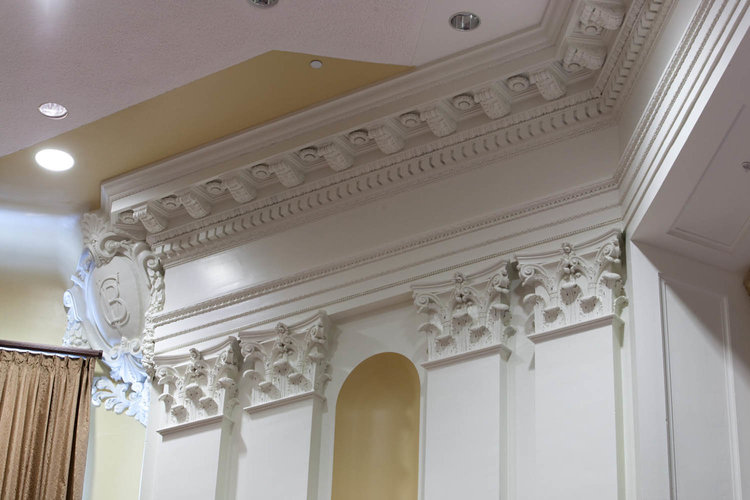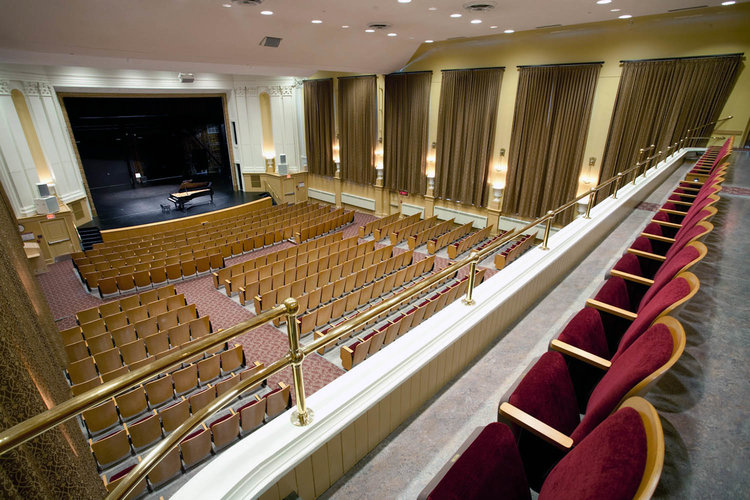 Computer Music Studio
The UBC Computer Music Studio in the School of Music is a teaching space for upper-year electroacoustic music, computer music, film scoring, and music technology hardware and software capstone courses. Once you have completed one or more of these courses, you can use the facilities to support your compositional coursework.
The Computer Music Studio includes essential recording equipment, Mac workstations with appropriate DAW software, multichannel interfaces, digital and analog mixers, projection facilities, and a stereo/octophonic sound system.
---
Sound Studio at the Institute for Computing, Information and Cognitive Systems
Research and production for the Laptop Orchestra and graduate students in technology occurs in the Sound Studio at the UBC Institute for Computing, Information and Cognitive Systems (ICICS).
The ICICS studio is a bespoke facility consisting of a main recording/research area, a control room, an isolation booth, and a workroom. It has 16 channel diffusion in the control room (two levels of 8 channels each), and the main recording area can support up to 64 individual channels of playback.
We strongly support music technology research by graduate students in this area. The ICICS studio is a secure facility, and access requires approval from the appropriate professor, after which you must complete training sessions.