A robust and well-rounded musical education.
The School of Music offers a four-year course of study leading to the Bachelor of Music (BMus), as well as a number of dual degrees, double majors, minors programs, and—with the Faculty of Arts—the Bachelor of Arts (BA) in Music.
At the heart of the program is the core curriculum of music theory and aural skills, music history, music technology, solo and ensemble performance, and liberal arts electives, in which all majors participate.
Bachelor of Music
Deepen your knowledge and perfect your musical performance in the UBC Bachelor of Music. Pursue one of four majors: general studies, music education, composition, and music scholarship.
Learn more arrow_right_alt
Bachelor of Arts in Music
A four-year program for students interested in music but not intending to pursue music performance professionally. Explore our BA major, minors, and honours.
Learn more arrow_right_alt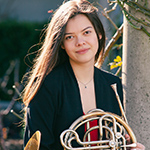 The UBC School of Music is such a welcoming place to be, and a supportive environment to grow in. The faculty and staff that I've worked with have been so enthusiastic and encouraging, and really help to bring everyone together. Even through the challenges of the COVID-19 pandemic, the SoM professors and instructors provided understanding and genuine interest in student wellbeing and development.
Hanna Van Inwegen
BMus + BEd Dual Degree, fifth-year - Laptop Orchestra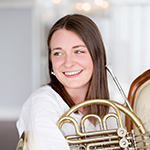 I felt supported by my professors and encouraged to reach my full potential. I grew as a musician through masterclasses with world-class artists, performing new commissions with Bands and the Symphony Orchestra, and weekly horn studio class. My colleagues both challenged and inspired me. I left UBC a well-rounded musician, with lifelong friendships, and a deeper passion for my craft.
Maddie Davis
BMus '22 (Horn Performance)