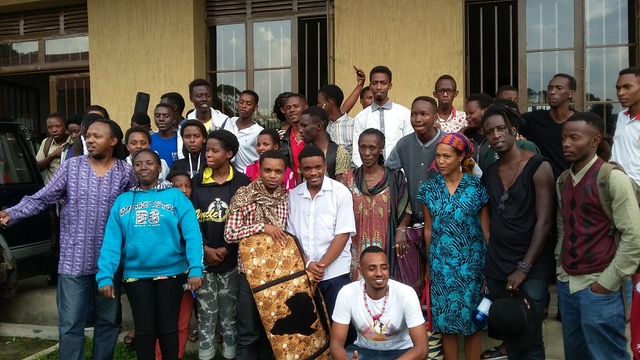 Music students who will be playing the Vancouver pipe organ from Kigali, Rwanda.
On Saturday, March 4, musicians in Vancouver and Kigali, Rwanda will give a cross-continental performance, playing a Vancouver pipe organ in real-time.
At St John's Shaughnessy Church in Vancouver, UBC Organ instructor Michael Dirk will perform, on their 3700-pipe organ, an arrangement of a traditional Rwandan song, Humura Rwanda, written by retired UBC Organ instructor, Denis Bédard. The performance will be live streamed to Kigali, Rwanda providing the accompaniment to a Rwandan choir singing the arrangement there. At the same time, a music student in Kigali will accompany, using a digital keyboard that will activate and play one of the four manuals of the pipe organ in Vancouver.
As there are no pipe organs in Rwanda, this première will offer an opportunity for Rwandan musicians to get a sense of what it's like to perform on this grand instrument. This performance is made possible through telemidi technology, which connects two systems over the internet to achieve real-time musical collaboration.
The event is scheduled for Saturday, March 4 from 10am – 12pm PST, in Vancouver at St. John's Shaughnessy Church (1490 Nanton Ave @ Granville St). It will be livestreamed via Shaughnessy Church's YouTube channel and at virtualsymphony.org/rwanda.
The performance at St. John's Shaughnessy Church in Vancouver is open to the public.
More information about this project can be found at virtualsymphony.org/rwanda and by contacting Project Leader, Gilles Parenteau.
---
---