Author: Laurel Parsons
Publication details: "'This Imaginary Halfe-Nothing': Temporality in Elisabeth Lutyens's Essence of Our Happinesses." In Analytical Essays on Music by Women Composers. Vol. 3: Concert Music, 1960–2000 (New York: Oxford University Press, 2016). 196–220.
Weblink: academic.oup.com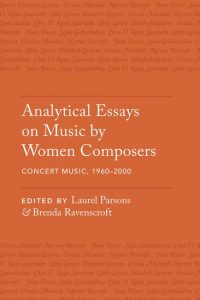 Description: In Essence of Our Happinesses (1968), a three-movement work for tenor, chorus, and orchestra, Elisabeth Lutyens explores the nature of time through settings of texts by Abū Yazīd, John Donne, and Arthur Rimbaud. This essay examines the second movement, Lutyens's setting of a Donne meditation on the nature of time followed by an orchestral choros entitled "Chronikos." First, an examination of the tenor's recurring melody shows how, through orchestration and flexible treatment of the row, Lutyens creates a kind of serial plainchant. Metric analysis of the choros then demonstrates how Lutyens's juxtaposition of a metrically unpredictable series of motives against a clocklike ostinato provides a wordless commentary on Donne's text. Finally, the composition is discussed in the context of Lutyens's many works exploring the paradoxes of human temporal experience.