Author: Julia Ulehla
Publication details: In From Folklore to World Music: On Memory, edited by Irena Přibylová and Lucie Uhlíková, 145-50. Náměšt nad Oslavou: Municipal Cultural Center, 2018.
Weblink: folkoveprazdniny.cz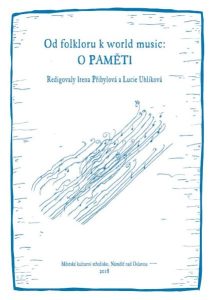 Description: Offered as a companion to a Dálava performance that occurred at the 2018 iteration of the
Folk Holidays Festival, this essay posits the body as a receptacle of collective memory, and folk song as a key which activates or unlocks those memories. Author draws upon the work of Indigenous scholar/performer Monique Mojica and Polish theatre director Jerzy Grotowski, the burgeoning field of epigenetics, testimony from renowned Horňácko violinist Martin Hrbáč, and embodied research with folk songs from the Slovácko region (Moravia, the Czech Republic) to consider song performance, even in diasporic conditions lacking continuity of transmission, for its trans-temporal, inter-subjective potentialities.