Author: Laurel Parsons
Publication details: "Anerca: Representations of Inuit Poetry in Late 20th-Century Art Music." Arctic Discourses. Edited by Anka Ryall, Johan Schimanski, and Henning Howlid Wærp. Cambridge: Cambridge Scholars Press, 2010.
Weblink: www.cambridgescholars.com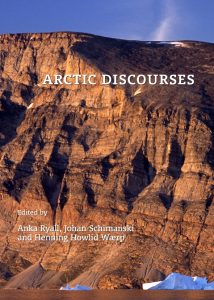 Description: Both fictional and non-fictional accounts of the Arctic have long been a major source of powerful images of the region, and have thus had a crucial part to play in the history of human activities there. This volume provides a wide-reaching investigation into the discourses involved in such accounts, above all into the consolidation of a discourse of "Arcticism" (modelled on Edward Said's concept of "Orientalism"), but also into the many intersecting discourses of imperialism, nationalism, masculinity, modernity, geography, science, race, ecology, indigeneity, aesthetics, etc.
Perspectives originating from inside and outside the Arctic, along with hybrid positions, are examined, with special attention being given to the textual genres, narratives and figures which they mobilize, together with to the close relationship between the Arctic as an unknown place and the literary imagination.
The different chapters address a wide geographical range of texts, providing a necessary supplement to most previous work in the field, and also address the wide variety of genres which flourish under the aegis of Arctic discourse, ranging from exploration accounts, travel-writing, political texts and journalism through diaries and historical documents to novels and novelizations, and including also other media, such as music and opera.