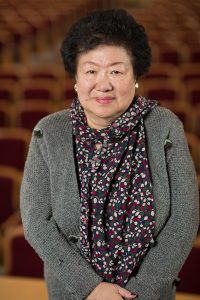 It is with great sadness that we acknowledge the passing of our dear friend and colleague, Helen Chen Lee.⁠
⁠
"Helen Chen Lee was a valued faculty member of the University of British Columbia's School of Music Voice and Opera Program. She recruited many talented students from China for the School. She also arranged many important collaborations between the UBC Opera Ensemble and universities in Beijing, Shanghai and Chengdu. As well, she was an influential force in establishing strong and lasting relationships between the Vancouver Chinese Community and the UBC Opera Ensemble. She was a gracious and generous colleague; a devoted teacher and mentor and will be sadly missed by her students, colleagues, friends and of course her loving family." — Nancy Hermiston, Director of UBC Voice and Opera⁠
⁠
Helen was a dedicated music educator, who taught for over five decades—two of those decades at our School. The impact that Helen has made on our students and the music community cannot be measured. We will miss her generous spirit and commitment to music education. Our deepest condolences to her many loved ones.⁠
⁠
⁠
—–⁠
Mental Health Resources:⁠
⁠
UBC Counselling Services⁠
https://students.ubc.ca/health/counselling-services⁠
⁠
For immediate mental health support:⁠
⁠
UBC Counselling Services: 1-604-822-3811⁠ ⁠
(8:30 – 4:30)⁠
⁠
Here2Talk: 1-604-642-5212 (if residing outside of Canada)⁠
Phone (toll-free): Within North America – 1 833 590 1328, ⁠
outside North America: 1 604 757 9734.⁠
⁠
If you are in distress:⁠
Call Crisis Center BC: 1-800-784-2433⁠
Call or visit VGH Access and Assessment Centre: 604-675-3700 (7:30am to 11:00pm)