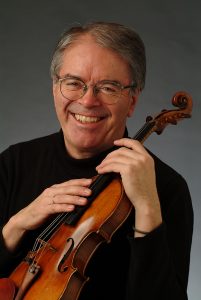 It is with great sadness that we announce the passing of Andrew Dawes, Professor Emeritus of Music.⁠
"Andrew Dawes was a giant in the world of classical music. As first violinist of the Orford String Quartet and a faculty member at the UBC School of Music he influenced generations of young musicians and touched the hearts of listeners wherever he performed." — T. Patrick Carrabré, Director of the UBC School of Music⁠
Dawes taught violin and chamber music at the UBC School of Music until 2005. He was a gifted and passionate music educator who often reminded students that "Practice does not make perfect. Only perfect practice makes perfect."
Dawes founded the Orford String Quartet with fellow violinist Kenneth Perkins, violist Terence Helmer, and cellist Marcel Saint-Cyr where they performed over 3000 concerts. He was the director of the Chamber Music Institute at the Vancouver Academy of Music, was appointed to McGill University as Distinguished Visiting Scholar, Catherine Thornhill Steele Chair in Music, and served on the Board of Directors of the Saint James Music Academy, and much more. His accomplishments are too many to list here.
Andrew Dawes was an immense force in the music world who will be greatly missed. Our deepest condolences to his many loved ones.
The family has created this website https://andrewdawes.ca/ where you can find a lovely obituary (where some of this announcement was adapted from). They will be collecting memories from friends and colleagues and announce his memorial from here as well.