Created eight years ago as a 'laboratory where music meets technology,' the Sonic UBC Laptop Sounds and Sensors Class has become a hothouse of innovation.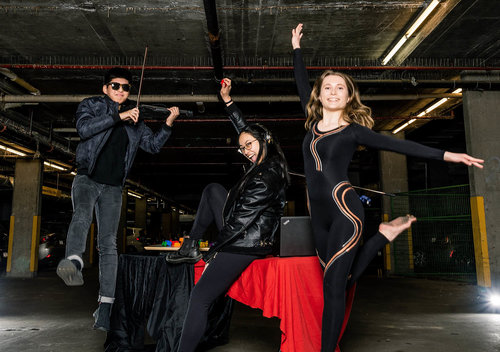 By Colleen O'Connor
A dancer in a wired bodysuit makes a graceful opening gesture and instrumental percussion begins. Her movements quicken as she crosses the Barnett Hall stage; she brings her leg around in a circle and the rhythms become more complex. As both hands touch the suit, digitized pitches layer atop the percussive beats.
A musician sits with a violin perched in her lap. She taps the body of the instrument. Percussion and synth sounds emerge, as colourful geometric shapes collapse, expand and dance on the screen behind her. She picks up her bow and begins to play.
A wearable instrument and a violin that 'plays' colour as well as sound: These fascinating projects were developed by former student Kiran Bhumber (BMus'14) in collaboration with Prof. Robert Pritchard, and by Chantelle Ko (BA'18) in Pritchard's Sonic UBC Laptop Sounds and Sensors Class (SUBCLASS). A core part of the Applied Music Technology Minor, SUBCLASS is a musical laboratory where students become inventors, pushing the boundaries of music and technology.
"There's a huge benefit for students from disciplines collaborating and sharing... it's inspiring"
Dr. Robert Pritchard
The idea behind the course, according to Prof. Pritchard, is to bring students with very different perspectives and skill sets together, give them the tools and the space to create, and watch what happens. "Our students come from music, film, theatre, computer science, engineering, kinesiology and other programs," he says, "and together they create electronic chamber music that explores brand new ideas in synthesis. There is a huge benefit for students from different disciplines collaborating and sharing each other's knowledge. It's inspiring."
With the guidance of Dr. Pritchard and Dr. Keith Hamel, students with complementary skills are grouped together. A music student with a specific musical concept in mind might be paired with an engineering student in order to realize it — as in Chantelle Ko's case.
Daniel Tsui demonstrates the 3D printed "Force Touch Gesturally Activated Augmented Violin." The violin uses special sensors to trigger audio filters and sound effects.
Her project, TRAVIS (Touch Responsive Augmented Violin Interface System), involved adding sensors to an acoustic violin, wiring the circuitry, and then writing microprocessor code that tracked her fingerings in real time and generated data. The data was then used in any number of ways, such as processing the violin's sound or synthesizing new sounds, as well as creating abstract video projections of shapes and colours reflecting the music being performed.
To develop the wireless component, Chantelle worked with electrical engineering students Carol Fu, Kyung Jin Han, Esther Mutinda, and Lily Shao (B.AS'18). They used their combined expertise in music and engineering in order to find creative solutions to the technical challenges posed by the project."From an engineering point of view we have the theoretical knowledge that can help with troubleshooting or support whatever issue that Chantelle was dealing with," Jin Han says.
Ko presented her project at UBC's Multidisciplinary Undergraduate Research Conference, and scored an impressive achievement, winning the 2018 URO Interdisciplinary Award. Other recent highlights include Bhumber's RUBS bodysuit and doctoral student Brian Topp's Cliff, an interactive dance project that uses a Kinect motion-tracking camera and sensors that allows the dancer to trigger voices as she moves across the stage.
But SUBCLASS is not just about technical innovation.
"Every project is guided by the question, 'How do we make art better?'" Pritchard says. As part of their final project, the students must perform an original work with their instruments and interactive sound, video, or lighting. They work in small groups against tight deadlines to create a short piece that is debuted at the end-of-term Bang! Festival of Electroacoustic Music.
"Our policy is that students do not touch their laptops in performance," says Prof. Pritchard.
After the performance, each group receives feedback from the class. Everyone benefits from the discussion as the class develops critical learning skills by giving and receiving critiques.
Fidelia Lam's Broken Thread group project is a good example of this ethos. Lam (BMus'15) and engineering student Simon Hecker used a custom smartphone application to record data from a live chamber music performance — featuring Samantha Ballard (BMus'15) on harp and Bhumber on clarinet — and then looped and regenerated the sound, creating an ethereal, multilayered real-time composition.
UBC student Andrea Wong demonstrates CHIMIRA, a kind of interactive mixing board that combines LEGO Duplo, a webcam, and code
Since SUBCLASS was established eight years ago by Pritchard and Dr. Keith Hamel, the course/lab/ensemble has become a quiet powerhouse at UBC, where highly skilled and sought-after graduates earn exciting career opportunities and win coveted spots at prestigious graduate programs in media and technology studies. Ko is now pursuing a Master of Music in Sonic Arts at the University of Calgary, while Bhumber went on to complete her MA in Media Arts at the University of Michigan in 2018. Lam also earned an MA in Media Arts from the University of Michigan, and is currently a PhD student in Interdisciplinary Media Arts and Practice at the University of Southern California. Current SUBCLASS student Andrea Wong recently won a Place and Sound artist residency with the CRES Media Arts Committee in Vancouver.
SUBCLASS capstone projects in the works include: a 3D-printed violin with wireless sensors, a study of LEDs and synesthetic colours for music, an ultrasonic dulcimer, and a glove that controls vocal effects in heavy metal music.
You can see the inventions and interactive performances for yourself on April 17 at the Bang! Festival in Roy Barnett Recital Hall. Admission is free!