Congratulations to the winners of the 2023 UBC School of Music Concerto Competition!
Open to all music students, the annual competition is an opportunity for young musicians to earn a coveted spot as a solo performer with the UBC Symphony Orchestra.
Competitors select virtuoso works which highlight their exceptional technical and expressive abilities as musicians. The performance level was exceptionally high, as always.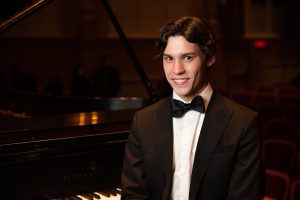 Congratulations to MMus student Jaeden Izik-Dzurko (pictured) for winning First Prize for his performance of Sergei Rachmaninoff: Piano Concerto No. 2 in C Minor, Op. 18. Jaeden studies with Professor Corey Hamm.
We would also like to congratulate runners up, Melanie Hiepler who performed Joseph Canteloube's Chants d'Auvergne (First Series) and Kaiya Gazley & Kristofer Siy who performed Emmanuel Séjourné's Double Concerto for Vibes, Marimba, and Orchestra, for their beautiful and inspired performances.
Winner Jaeden Izik-Dzurko will perform Rachmaninoff's Piano Concerto No. 2 in C Minor, Op. 18 with the UBC Symphony Orchestra at a later date. Stay tuned for the announcement!
Thank you to jurors Jane Hayes, Brian Mix, and George Laverock for their time and expertise.
And thank you to everyone who came out to support our students and to all who worked so hard to put this competition together. It was a lovely evening of music!
Previous winners
2021: Hamilton Lau piano (Piano Concerto No. 1 in F-sharp minor, Op. 1 by Sergei Rachmaninoff)
2020: Bernardino Assunçao clarinet (Clarinet Concerto, Op. 57 by Carl Nielsen)
2019: D'Arcy Blunston soprano (Les illuminations de Rimbaud, Op. 18 by Benjamin Britten)
2018: Carter Johnson piano (Piano Concerto No. 3 in C Major, Op. 26 by Sergei Prokofiev)
2017: Benjamin Hopkins piano (Piano Concerto No. 1 in D minor by Brahms)
2016: Melody Yuan violin (Violin Concerto No. 1 in D Major by Sergei Prokofiev)
2015: Ryan Essau flute (Concerto for Flute by Jacques Ibert )