By Katherine Evans, Admissions Manager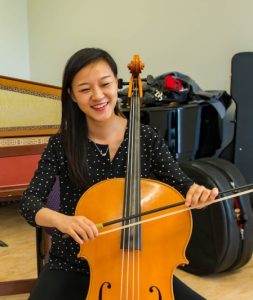 Thinking about applying to our graduate program? Here are some tips ahead of the Dec. 1 deadline.
The graduate application deadline is approaching! Dec. 1st is the last day to submit your application to the UBC School of Music for MMus, MA, PhD or DMA programs.
If you're on the fence about whether or not to apply — if, for example, you're not sure you'll be ready with your documents and audition material, don't know your prospective advisor well enough, and so on — I encourage you to reach out to us!
Our admissions and advising team can help you get in touch with faculty members if you have program-specific questions. We want to help you know that you are well matched with a program here and have all the information you need.
As with all admissions systems, our eVision graduate admissions platform has a few quirks! Below are a few pro-tips to help you navigate your application smoothly.
References: "The application system says my reference hasn't arrived yet."
a.     Please confirm with your references individually and make sure that they received an email from the UBC graduate system inviting them to submit a reference for you.  If they have not, there could be a typo in the email address you provided to the graduate system. Contact the Grad Program Assistant to resolve this issue.
b.     In order for your references to be able to submit their letters online, the email address you give for them has to be from a paid service — an address hosted by their university, company of employment, or a company like Shaw or Telus, NOT a free email service like Hotmail or Gmail or QQmail.  If a reference only has a free email address, they will receive an email from the application system inviting them to send a hard-copy reference form by post directly to the School of Music, to be received by December 20th. If your reference has to send a hard-copy letter, please ask them to scan and email a PDF of the letter directly to graduate program staff before mailing. The PDF copy can be used for faculty perusal, but not for formal admission to UBC.
c.     Here are the detailed requirements for how to submit both forms of reference. (For example, hard-copy references have to be in a "sealed and endorsed" envelope.
Supporting documents: "Why is there a document deadline of Dec. 15, separate from the application deadline, and what documents do I need to submit by that date?"
I am so glad you asked! Between Dec. 1 and Dec. 15, you can upload transcripts and English proficiency test scores. The admissions system will send you an automatic checklist of any items missing from the UBC central graduate application system, but might not remind you about Music-program-specific requirements such as repertoire lists, academic writing samples, etc.  Those need to be uploaded with your application by Dec. 1st. (If you realize that you omitted something from your application and have already submitted it, contact Grad Program Assistant. They can upload most documents into your application after the deadline).
Transcripts: "It looks like only an unofficial transcript is required when I first apply — does that mean I can print my grades from a web-based browser and submit them as a PDF?"
Short answer: No. Please scan an official transcript from each university/post-secondary school you have attended (even just one course!) and upload them.
Long Answer: 
Step 1: The transcript documents accepted for your initial application to UBC is a scan of your official transcript that you can upload into your application. The fact that it is a scan is what makes the submission unofficial in the eyes of the university. This uploaded scan-of-an-official transcript will allow you to reach the first stage of admission.
Step 2: If you are admitted and choose to attend UBC, at that time you will have to log into your application portal online and review the admission letter to see which official transcripts and other documents you have to submit before being fully admitted and thus able to register for your courses in the coming year.
Step 3: If you upload a "record of grades" or something that says "unofficial transcript" the admissions team will make every attempt to notify you, but due to the number of documents, we will not be able to catch these issues right away. We'll do our best!
Video auditions: "How can I submit my video audition and what is the deadline? I see that different programs have different deadlines!"
If you are applying into a performance program and cannot audition in person, you will need to upload video files of your audition to our UBC video upload software. Upload instructions will be sent to composition and performance applicants between Dec. 1 and Dec. 10.  If you have a YouTube link of your audition material that you are willing to share, it is much faster to embed that link into UBC's platform than to upload directly. Composition applicants, please submit PDFs of the scores and corresponding audio/video files to CLAS as your portfolio submission.
The audition/portfolio submission deadline is Jan. 3 for most programs, but the deadline for applicants to the Conducting program is Dec. 15  for submission of the pre-screening video. Extensions are sometimes possible. If you run into any technical issues when submitting, please contact the admissions staff.
Thanks and good luck!

Updated Nov. 8, 2022.